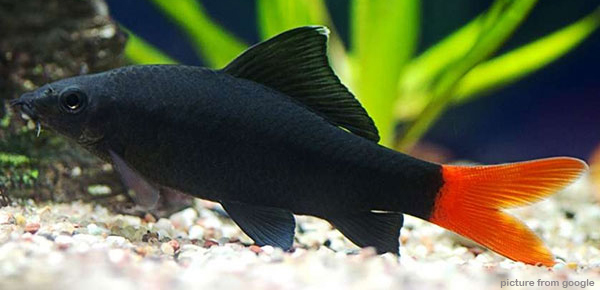 The Red Tail Shark can be a standout in any freshwater aquarium.

It is an active fish that is entertaining to watch and will provide countless hours of fun.

Due to their non-fussy nature, they are very easy to feed and once settled into their aquarium shouldn't offer too many difficulties to keep happy.

We cover everything you need to know about the Red Tail Shark including: typical behavior, aquarium conditions, dietary needs, ideal tank mates and much more.

Let's start with a quick summary table before we move on to discuss their recommended tank mates and care requirements.
红尾鲨可以在任何淡水水族馆中脱颖而出。

这是一种活跃的鱼,有趣的观看,将提供无数的乐趣。

由于它们非繁琐的性质,它们非常容易喂食,一旦进入水族箱,不应该提供太多的困难来保持快乐。

我们涵盖了您需要了解的关于红尾鲨的所有信息,包括:典型行为,水族箱条件,饮食需求,理想的坦克配偶等等。

在我们继续讨论他们推荐的坦克配偶和护理要求之前,我们先从快速汇总表开始。