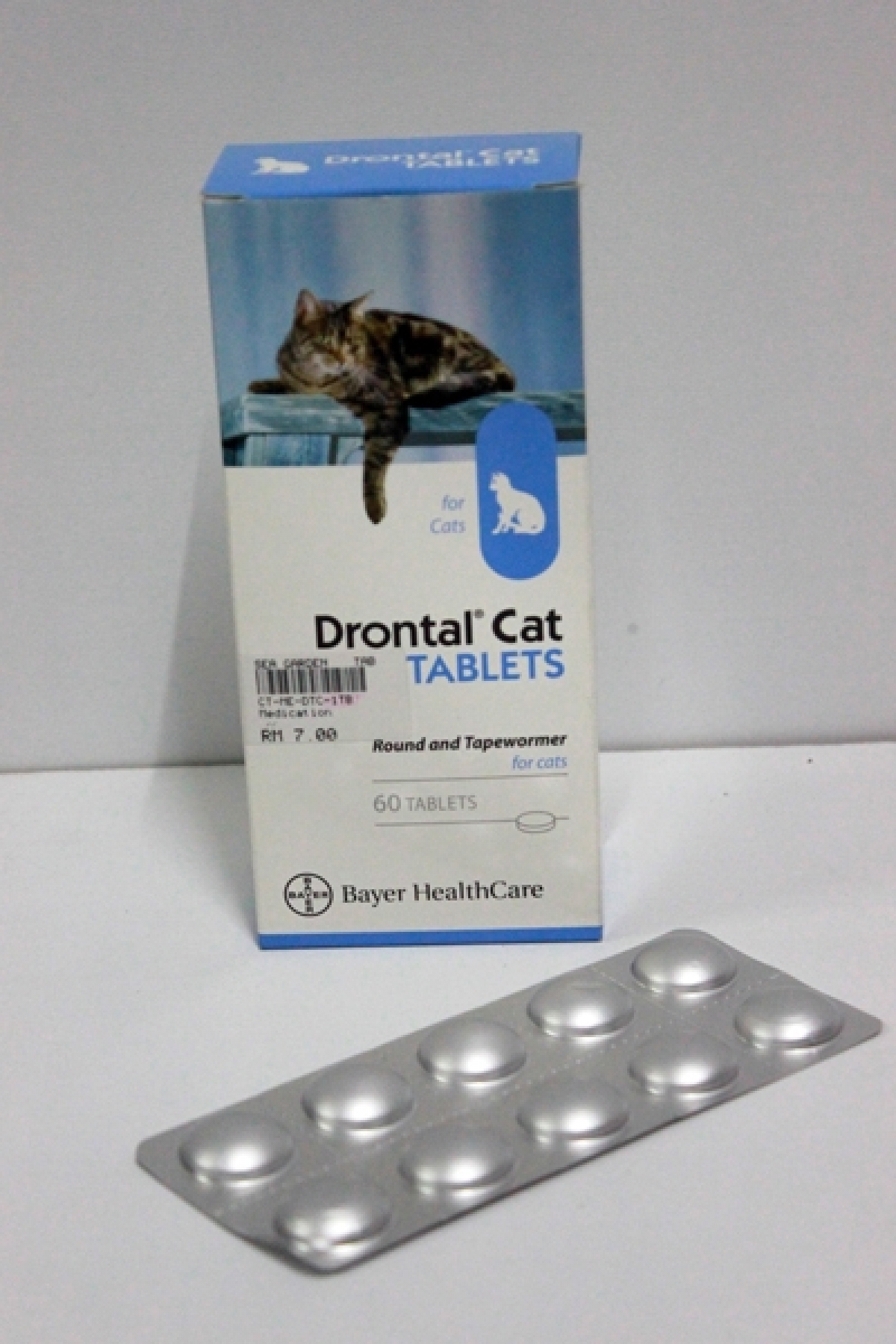 Brand: Bayer
Drontal Cat
* Pack in single tablet
Drontal kills more varieties of Roundworm and Tapeworm than any other wormer. Contains Praziquantel, Pyrantel and Febantel. Drontal works with a single dose and kills all the common intestinal worms found in pets. For the treatment of gastrointestinal roundworms and tapeworms of pets.
Drontal should not be used in kittens less than 6 weeks of age.

To avoid worms reaching maturity and affecting your pet's health, and to reduce public health risks, you should worm your pet regularly with Drontal. Worming at least every three months will reduce this risk, but ask your vet who will be able to evaluate your pet's health and your family's requirements and advise you on a specific worming routine for your pet.
Dosage Information
Each tablet contains 20mg praziquantel and 230mg pyrantel embonate.
This is equivalent to one Drontal Cat Tablets per 4 kg bodyweight
Administration and Duration of Treatment:
For single oral administration. The tablets should be given directly to the animal, but if necessary can be disguised in food

Use During Pregnancy and Lactation:
Not to be used during pregnancy but may be used during lactation.

How often should I use Drontal?
It is advised that an adult dog or cat should be treated for worms four times a year.

There may be specific instances however where a regime of more frequent worming treatment is desirable. These would include the worming of puppies and kittens, hunting cats which eat mice, and dogs and cats which experience repeated flea problems

Uses
Controls every type of intestinal worm commonly found in cats.
For the treatment of gastrointestinal roundworms and tapeworms of pets
Ascarids: Toxocara cati & Toxascaris leonina
Tapeworm: Dipylidium caninum & Taenia taeniaeformis

Contra-indications, warnings, etc:
Not intended for use in kittens less than 6 weeks of age.
Do not use simultaneously with piperazine compounds.
Until sufficient studies have been performed with this combination, do not use during pregnancy.

User Safety:
In the interests of good hygiene, persons administering the tablets directly to a pet, or by adding them to the cat's food, should wash their hands afterwards.

For animal treatment only. Keep out of the reach of children